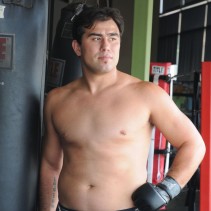 Virgil Zwicker was once a man walking his own path of destruction.
The Strikeforce fighter spent as much time in trouble as a youth as he did in school, bouncing in and out of jail for much of his life growing up on an Indian reservation in California.
But Zwicker was able to pick himself up, dust himself off and not only pick up the pieces of what was quickly becoming a broken life, but he was able to put it all back together again.
Now with a growing family of his own, Zwicker's tale is one that could be simply told for inspiration, but that's not good enough for the 30-year-old mixed martial artist who now wants to serve as an example of somebody who grew up wrong, but made things right.
While Zwicker has been working as a youth coordinator at his Indian reservation, recently he got the opportunity to speak in front of a group of young people that could truly relate to everything he had gone through.
At the Alamansor Academy in California, kids routinely join the program due to similar upbringings as Zwicker and seemingly walking down the same destructive path. The school's job is to help lead them back in the right direction and at their recent graduation they invited Zwicker to come be the keynote speaker.
"When I first looked them up and checked them out I thought it was going to be strictly troubled youths, gangs, kids being locked up, but I would say probably only 20 to 30 percent of the kids were like that. The rest of them, there was a lot that had physical disabilities, autism, and a lot of them were not in trouble or anything. They basically told me that 90 percent of those kids are the worst of the worst in that area," Zwicker told MMAWeekly.com.
The school selected Zwicker because he was a person that grew up with many of the same issues these kids were dealing with today. But he didn't give up, he didn't become a lifetime offender, he didn't become a product of the system. Zwicker cleaned up his act and worked all the way to where he was fighting for Strikeforce, one of the largest mixed martial arts promotions in the world, and now he's giving back.
"I felt like that was the first step for me for being able to give back and helping out the kids and showing that you can make it no matter what. I'm still trying to climb the ladder of success and them graduating it was just awesome to hear their stories and their accomplishments," Zwicker said.
John Vandercook, who sits on the Alamansor Academy's board of directors, said it was a no-brainer to bring Zwicker in to speak to the kids on their graduation day.
"Because of who he is and his background as an individual who has overcome personal adversity, and become a personal success in his life, he was a natural selection to be the keynote speaker," said Vandercook. "Because all of these young people are at risk individuals and have similar adversities and financial backgrounds, so his message was very much aligned with our Alamansor Academy's message which is taking charge and overcoming adversity and empowering at risk individuals and not giving up."
Zwicker delivered a very personal message to the kids that day, but even he admits it wasn't easy. His story is definitely one of struggle, but Zwicker knew that if he could even prevent one kid from living the same kind of life he did, then the job was worth it.
"It's so much easier to get in the cage than to stand in front of a group of people and speak about myself and kind of get them motivated to go out in their lives, and it was nerve wracking right up until I started talking and I was engaging with them," Zwicker revealed.
"I spoke to them about how I kind of grew up in poverty and didn't really have a lot in my life in terms of materialistic things, coming from a big family and living on the reservation you learn to live off the land, live off of love and when I got in trouble I never focused on my family or what I was doing wrong. It just kind of happened by me taking ownership and taking responsibility for who I was and I had to really realize it was nobody's fault but mine and I made the changes in the right way to become a man."
About 500 people showed up at the graduation including the kids who were exiting the program that day. Zwicker could not be prouder of what he was able to do, and hopes this can help inspire them to go on to great things.
"For me, I just like to be around kids I can motivate," said Zwicker. "I get motivated in any way I can help people and kids. It keeps me grounded."
 article by Damon Martin on mmaweekly.com