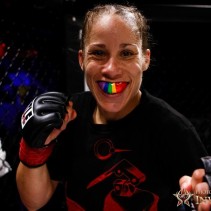 Liz Carmouche has been to war. We're not talking about the kind of war that takes place within the chain-link fencing of a mixed martial arts cage. We're talking guns, bullets and grenades. In comparison to the risks that came in those conflicts, the former U.S. Marine's match-up with knockout artist Kaitlin Young on Saturday night at the second-ever event hosted by the fledgling Invicta FC will seem like a walk in the park.
After three tours in the Middle East, "Girl-rilla" will be well prepared for anything Young may throw at her. That said, Carmouche says that a fight camp and boot camp have very little in common.
"It's a lot different," the Team Hurricane Awesome fighter confessed to The MMA Corner in an exclusive interview. "I mean, in boot camp, we do hand-to-hand combat, but it's only one part of boot camp, whereas fighting is all hand-to-hand combat. The training is much more strict for my fight camp than it was for boot camp."
It's common for military personnel to take up martial arts while enlisted, and Carmouche was no different. Once she enlisted, she became heavily involved in the Marine Corps Martial Arts Program, though she admits the MMA training didn't come until the very end. The 28-year-old was able to combine that training with sporadic involvement in karate as a kid to catapult her rise in MMA.
At 6-2 as a professional, Carmouche's only losses have come at the hands of two former Strikeforce champions—Marloes Coenen and Sarah Kaufman. Carmouche admits that those two setbacks have helped her grow as a mixed martial artist, while also solidifying her place in MMA in her own mind.
"When I had gone against Marloes [Coenen], I had heard about her K-1 fighting and I had heard about her brown belt in jiu-jitsu," Carmouche explained. "To know that I could stand toe-to-toe with her and she didn't really do any damage standing up, [and] to dominate her in most of the fight, it was like 'wow, maybe I'm not as bad as I think.'
"With Kaufman, she's really good at knocking people out, really good at just beating the living daylight out of people, and she wasn't able to do anything other than bloody up my nose, which was broken before the fight. So, that showed me that I really stood a chance in the 135-pound division, and that I deserve to be fighting in Strikeforce. Up to that point, I had kind of questioned whether my quick rise was fair and if I deserved it, and those two fights definitely showed me that I deserved to be there."
As a kid, Carmouche was as athletic as her mom allowed, which may not be quite as involved as one may think.
"Any sport that my mom would allow me to play," she answered when asked what sports she participated in as a child. "I really wanted to box, and there was actually a boxing team that had asked me—just after seeing my physique and the way that I would fight in fights with kids—to try out boxing. My mom was like, 'I don't want you getting your nose broke, your teeth knocked out. No!' I was allowed to do soccer, which even that she was a little apprehensive about. I played volleyball, I did football for a little bit when I was with my dad, I did basketball, tennis, swam a little bit, surfed, just anything I could play, I was involved in even if my mom didn't know about it."
When Carmouche, who was actually raised in Japan, steps in the cage Saturday night, she's aware of her opponent's striking prowess, but she also feels she stacks up well against the woman who once ended Miesha Tate's night just 30 seconds into a bout with a head-kick knockout.
"I think that my stand-up is different than most people's in that the way that I move is not the typical style," said Carmouche. "My wrestling is adapted for MMA; I don't have a wrestling background at all, so that hasn't hindered me; I don't have any bad habits in the sense that I have to retrain myself. My jiu-jitsu—I roll with so many different types of people and so many great people that it really helps me out. So, I think think that all of those different aspects are really going to help me in my fight against her."
Young is coming off an incredible, 'Fight of the Night'-worthy performance against Leslie Smith. It was a 15-minute stand-up war that resulted in a draw. While the outcome of the fight may not have been what anyone was hoping for, they definitely put on a show for the fans as the fight was easily the best in the promotion's short history. And you can be sure Carmouche will be hoping to put on a repeat performance in her sophomore effort for Invicta FC. 
"I'm excited for the fight," Carmouche said. "She's a great athlete. She's really known for her stand-up, and I'm looking forward to that. I think it's probably going to come down to a decision. I think it's going to be back and forth. I think we're really going to put a beating on each other."
If the battle between these two women is anything like Carmouche's battle with Kaufman or Young's fight with Smith, the two ladies will definitely have done their part in helping to thrust women's MMA into the spotlight. The sport has grown so much in the past year alone, and if Carmouche has it her way, she'll be a big part in ensuring the future of the sport.
"It's only going to gain a lot of popularity in the next year," Carmouche predicted of her sport. "In the past year, it's already grown so much, that it can only keep rising, keep improving and gaining more popularity and getting more into the spotlight. My hopes are that Invicta and Strikeforce will be in the lead, leading women into the sport of MMA and leading them into the limelight, and I'm hoping that I can be involved in both."