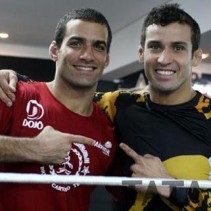 Getting his MMA career started, the Muay Thai expert Bruno Carvalho will debut on September 1st, in Iron Fight, when meets Jurandir Sardinha.
"I've been training Muay Thai, Wrestling and Jiu-Jitsu a lot. It's like I'm taking a step on a division below mine, but I'm making sure I'm prepared for a good debut", said the fighter on an interview with TATAME.
About his opponent, Bruno admitted not to know a lot about him despite Jurandir has a big MMA résumé.
"Actually I know little about him. He's a veteran, has a great baggage in MMA and I think it'll be a great fight. I don't know him much but I'm prepared for any challenges (laughs)".
Despite being on the beginning of his career, Bruno Carvalho has a big record in Muay Thai. The athlete has defeated guys like Edson Junior, who is currently in UFC. And talking about Ultimate, Carvalho guaranteed he works dreaming on a chance to be at the show.
"My expectation is to have this chance to show my work in the UFC because here in Brazil I have a Muay Thai record of 24 fights and 24 wins. I've fought many tough guys in my division like Dida, defeated Edson Barboza, fought a three-fight GP on a heavier division and won. I'm just waiting for this opportunity (laughs)".
About Iron Fight Combat, Carvalho admitted he is going for a knockout to make this a big showcase for him in the MMA world.
"In Muay Thai I'm considered the best striker in Brazil, so I'm going for the knockout to know people I can knockout anyone, whether he's a BJJ black belt or whatever".
Iron Fight Combat
Feira de Santana, Bahia, Brazil
Saturday, September 1st of 2012
- Edilson Teixeira vs. Danilo Noronha;
- Rafael Viana vs. Alexandre "Bambam" Lima;
- Guilherme Viana vs. Ed Monstro;
- Andre Quines vs. Goiti Yamauchi;
- Aaron Mays vs. Jollyson Francino;
- Ricardo Mirrado vs. Bruno Menezes;
- Bruno Carvalho vs. Jurandir Sardinha;
- Klayton Alves vs. Samuel Trindade;
- Renato Velame vs. Tolentino Peru.