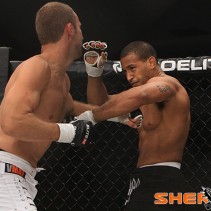 Prior to fighting at UFC 140, middleweight Jared Hamman got a call from his wife that turned his world upside down. An unexpected surprise came when Hamman found out his wife was pregnant.  Getting ready to fight Constantinos Philippou was one thing, but having a kid was a whole different ballgame, Hamman said. Also, trying to make a move from Southern California to Colorado made things complicated enough.
"It was such a tornado of events," Hamman told Yahoo! Sports.
Two weeks left until the fight and training camp is winding down. The Hamman's finally make their transition to Colorado as full-time residents. It's a time to relax and anticipate the months to come.  Then heartbreak struck the young couple harder than the 185-pound fighter had ever felt in the octagon. Four days after settling into town, they lost the baby.
"Two weeks before the fight. That was crazy, man," Hamman said, reflecting on the difficult time in his life. "I'm like, 'how much more can I take?'"  The combination of a miscarriage, stressful move across state lines, and first-round knockout loss to Philippou made for an incredibly trying time for Hamman. The whirlwind of occurrences tested him, but after some conversations with those he considers close and an incredible ability to focus on the positive, Hamman is refocusing.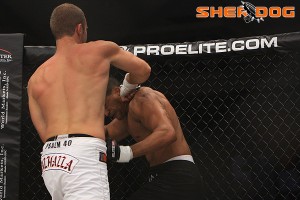 It's been a crazy road, he said. Highs and lows have been the theme of late, but training in his new surroundings has given Hamman the support he needs after dealing with personal tragedies.  The roller coaster seems to have come to a stop in Colorado at Grudge Training Center.Teaming with other professionals, such as Nate Marquardt, Brendan Schaub, and Eliot Marshall, Hamman is in what he referred to as a championship environment.
"Everybody's there — not to get egos, but to get better," Hamman said of his new team.
Marquardt has especially helped Hamman in the new environment. The two have grown really close, he said, and "The Great" has offered up a lot of information that's helped in training for Hamman's UFC 150 fight on Saturday.
"He's just so knowledgeable," he said of Marquardt.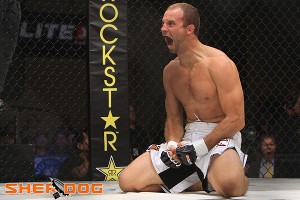 And so the journey continues for Hamman, moving on from his rough 2011. He's grown accustomed to his new training environment, and things are finally settling down as fight week is upon him. He'll face Michael Kuiper on fight night, and Hamman will be the hometown fighter with the venue being The Pepsi Center in Denver.
Having moved from Santa Monica beaches to Rocky Mountain slopes, Hamman sees himself traveling at a competitive pace up the middleweight ladder. Training at altitude has definitely helped, he said, and his cardiovascular strength has dramatically improved as a result.
Kuiper waits at the next stop on the rails of Hamman's roller coaster. After all he's been through, the middleweight's toughness has peaked, and he's ready for whatever his opponent can throw at him.  "Bring the pain," he exclaimed. "Bring the pain, baby!"