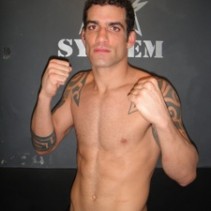 There is almost always a story behind how a fighter got involved in martial arts, and many times it's because of something they watched as a kid on television or in the movies.
For the past couple of generations, the most popular name to come up when discussing this matter with many mixed martial artists is legendary actor Bruce Lee.
But there have been other great action stars and martial artists on the silver screen to inspire the martial arts enthusiasts and for one kid in Brazil he was watching the 'Muscle from Brussels'.
For young Brazilian Bruno Carvalho, who never had the chance to actually practice martial arts as a kid, he learned his earliest moves watching action star Jean-Claude Van Damme.
"I've always been interested in martial arts. I grew up watching (Jean-Claude) Van Damme movies and anything related to fighting, but I never had the opportunity to train as a child," Carvalho told MMAWeekly.com.
"I started training in Muay Thai when I was 17 years old. It turned into my addiction and passion. I trained from Sunday to Sunday and started racing very fast getting 24 fights. 24 wins and 18 wins by knockout in my professional resume."
The addiction for Carvalho started to turn into a pretty solid career in Muay Thai, and his undefeated record is spotted with names that many MMA fans would be familiar with when looking at the list.
"Here in Brazil I've fought and won against the best athletes in my category 70 kg. I have faced Andre Dida and knocked him out in the third round. I beat Edson Barboza two times by unanimous decision," said Carvalho. "I also commonly attended a Grand Prix in a category above me, 77kg, and I was champion.
"I respect all of my opponents for the challenges they presented. They are all tough and very talented fighters. They helped me become a better fighter both skill wise, and with my mindset."
His Muay Thai record and resume are as impressive as they come, but Carvalho wasn't satisfied with just being the best fighter on the feet so he transitioned into mixed martial arts.
Working under legendary former Chute Boxe coach Cristiano Marcello, Carvalho has worked tirelessly to match his ground game with his already established stand-up to make one seriously dangerous fighter.
"I have trained with Cristiano Marcello who already formed several good strikers in MMA, as Wanderlei Silva, Mauricio Shogun, among others. And I have trained a team with very good MMA so I did not feel any difficulty in the transition to MMA," Carvalho revealed.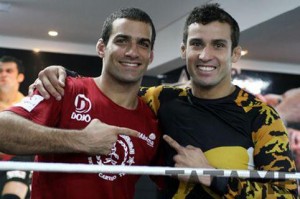 The nature of the mixed martial arts beast is to be as well rounded as possible and that's evident by all the great fighters that currently hold titles. Of course Carvalho has had to endure more than a few bumps in the road, and every challenge is another lesson learned, but he's confident in his ability to continue to grow.
Growing means looking for the submission on the ground or mixing in some wrestling to throw something new at an opponent, but Carvalho isn't looking to re-invent the wheel. He knows his strongest attribute is his knockout power, but he wants all future fighters that step in the cage with him to know they are safe nowhere when in the cage or ring with him.
"MMA is in the DNA fabric of the Brazilian culture. As a serious martial artist, I was open to other systems that were effective in MMA. As a result, I always trained Brazilian Jiu-Jitsu in my career. As a result, the natural progression towards competing in MMA was inevitable. I work hard on my submission game as I have some submission victories in my MMA record," said Carvalho.
"But there is no secret, I am a knockout artist. I love to make exciting fights using my specialty in Muay Thai. This is the style I am working very hard on bringing the big show for all the MMA fans around the world. When the time and opportunity comes I will be ready to make a show for all the fans."
Carvalho's next test will come at Iron Fight Combat in his native Brazil when he faces Jurandir Sardinha, but his long term goals will hopefully land him beside many of his home country brethren inside the Octagon.
"In 2012 my goal is to get a chance to fight in the UFC because I believe I am ready to present my skills on their platform," said Carvalho. "My main focus everyday when I train is to be the champion of my division in the UFC."